Thats me - Andrews mom. The slacker of posting pictures. Im sorry. I still have not been able to upload the recent pics. There arent many dont be fooled. Just a few here and there from a few functions that we have attended. & Ive also noticed that Andrew just doesnt stay still long enough to have his picture taken.
Andrew has definitley been busy. In the month of January Andrew attended 4 birthday parties in 2 weeks. I actually only have a few pics from 2 parties.....scratch that prob one! But be sure he had a blast at each party! They were as fancy as a bounce play place, and the childrens museum to a laidback family approach at the families local church.
He loved the bounce play place so much that Ive sought out a place similar close to home to take him on my day off. Facebook is a powerful tool and Im able to see when the play place close to home has open bounces when its normally reserved for parties. So this Friday at 10 there is a pre-school playdate that we are attending and we are both excited. Its a blessed time to get out of the house and right bf lunch and nap time no less. So we'll spend a couple of hours in a place like this.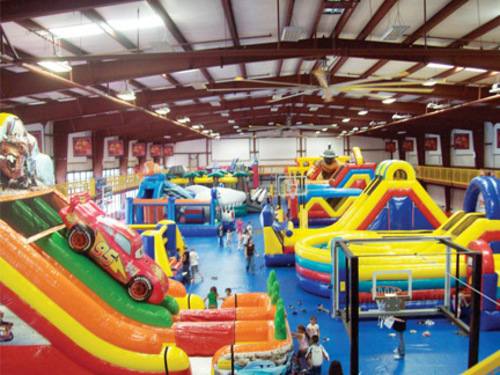 Hopefully I wont lose my mind ;) My how times have changed since Tim and I were kids. We were too poor for Chucky Cheese ;) So another pinky swear that Monday I should have a few pics of Andrew having a blast! Although Im sure Ill get stuck helping him climb and slide. Hey I can count it as a workout right?